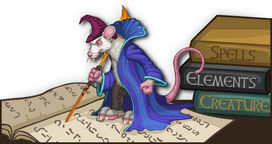 Dudley
is the main antagonist in the game
Jacksmith
who captured
King Plumpfeather's
daughter,
Liliana
. He wears a blue cape.
Flipdeck Info
Hometown: Castle Ruins
Occupation: Wizard
Loves: Princess Liliana
Hates: Plumpfeather Kingdom
Dudley is a wizard who lives alone in the ruins of a once great kingdom. His ancestors escaped to the ruins during the Great Rat Eviction. As a child, Dudley discovered a hidden chamber amongst the rubble. There, a great wizard once lived who left behind books and magic relics including the powerful Phoenix Staff. Dudley became a recluse in the chamber, studying spells and gazing into his crystal ball.
Gallery
Ad blocker interference detected!
Wikia is a free-to-use site that makes money from advertising. We have a modified experience for viewers using ad blockers

Wikia is not accessible if you've made further modifications. Remove the custom ad blocker rule(s) and the page will load as expected.