Decaffeinated Coffee or Decaf is a beverage made available to customers when the drink station is unlocked in Papa's Pancakeria upon reaching Rank 15 in the game. The badge "Decaffeinated" is given when you serve 20 orders with Decaf. It is served in a clear coffee cup. Customers may select to have cream or sugar added to the coffee.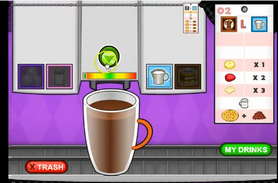 Customers who orders this
Trivia
Ad blocker interference detected!
Wikia is a free-to-use site that makes money from advertising. We have a modified experience for viewers using ad blockers

Wikia is not accessible if you've made further modifications. Remove the custom ad blocker rule(s) and the page will load as expected.