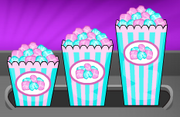 Cotton Puffs
are an ingredient used in many of Papa Louie's restaurant time-management games.
In Papa's Hot Doggeria, Cotton Puffs is a "popcorn" unlocked with Edna when the player reaches Rank 37. The badge "Cotton Candy Fan" is awarded when the player serve 30 orders with Cotton Puffs.
In Papa's Freezeria HD, Cotton Puffs are a mixable unlocked with Yippy when a player reaches Rank 27.
Customers who order this (Hot Doggeria)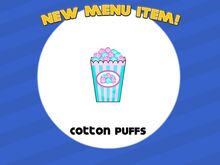 Customer who order this (Freezeria HD)
Trivia
Cotton Puffs are likely not a popcorn, but actually small balls of Cotton Candy.
None of the Closers order Cotton Puffs.
The Cotton Puffs poster is a purchasable item in Papa's Sushiria. Putting this in your lobby will give a bonus for Cotton Candy Bubbles.
Ad blocker interference detected!
Wikia is a free-to-use site that makes money from advertising. We have a modified experience for viewers using ad blockers

Wikia is not accessible if you've made further modifications. Remove the custom ad blocker rule(s) and the page will load as expected.