Cooper is a male customer who first appeared in Papa Louie: When Pizzas Attack!. He is the male worker in Papa's Pancakeria. 
Flipdeck Info
Hometown: Tastyville
Loves: Pepperoni
Hates: Chipmunks
Occupation: Pancakeria Chef
Every morning, Cooper cooks up the fluffiest pancakes for all the townsfolk of Maple Mountain. Even though he was unexpectedly "hired" by Papa Louie, Cooper quickly fell in love with flipping flapjacks for a living. After work, Cooper and his cat, Cookie, head home to Tastyville. Cooper also brings home a stack of chocolate chip waffles for his kid brother, Greg.
Appearance
In the beginning of the games, Cooper wore a red and white shirt that said "Papa Louie" on it, with blue pants and grey shoes. Beginning with Papa's Taco Mia!, he wore a "Papa Louie" shirt with Papa Louie's picture, and his shoes change to white with red laces. Beginning with Papa's Wingeria, he wears not only his Pancakeria uniform, but also something on his back that holds Cookie.
 Clean-Up
Like Mary, Maggie and Clair; he got his clean-up from the old games. His hair is light brown, in his Papa Tee, Papa's symbol was moved a little up; He now wears jeans with a pocket, and he has a red stitched shoes.
Styles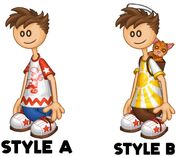 Cooper has a paper hat. His shirt is white with yellow sleeves, and on his shirt, a symbol of a yellow sun. He also has brown pants and his shoes are red stitched shoes.
Orders
4 pepperonis (left)
7.5 minutes (1/8 of meter)
Sliced into quarters
Bottom Bun
Medium Patty
Cheese
Tomato
Tomato
Top Bun
Pita
Pork
Pinto Beans
Tomatoes
Brown Rice
Nacho Cheese
2 Pancakes
Whipped Cream
Chocolate Chips
Maple Syrup
Drink
Top Bun
Medium Patty
American Cheese
Bacon
Awesome Sauce
Top Bun
3 Buffalo wings (Right)
3 Spicy Garlic Wings (Left)
6 celeries
Mango Chili Dip
Hot Dog on a Chicago Bun
Mustard
Sauerkraut
Fajita Veggies
Mustard
Drink and Popcorn:

Small Tangerine Pop
Large Candy Jack
Liner B
Chocolate Cake
Chocolate Frosting
Cupcake 1:

Vanilla Drizzle
Silver Star Sprinkles (Rainbow Sprinkles on other holidays)
Festive Flag (Two Marshmallows and a Cherry on other holidays)

Cupcake 2:

Chocolate Drizzle
Creameo Bits
Cherry
Candy Rocket (Cherry on other holidays)
Cherry
Medium Cup
Nutty Butter Cups
Vanilla Syrup
Regular Blend
Whipped Cream
Chocolate Chips
3 Cherries
Regular Ravioli
Pumpkin Pomodoro (Beefy Bolognese in other holidays)
Crushed Croutons (Crushida Pepper in other holidays)
Grated Mozzarella
7 Roasted Turkey (Meatballs in other holidays)
Pepperoni Bread
Large Cup
Creameos
Vanilla Syrup
Regular Blend
Whipped Cream
Butterscotch Topping
Nuts
Chocolate Chips
Dipped Pretzel, Cherry, Dipped Pretzel
Regular Donut with Boston Cream

Maple Icing (Chocolate in other holidays)
Chocolate Drizzle
Rainbow Sprinkles
Regular Long John Donut with Chocolate Mousse

Chocolate Icing
Butterscotch Drizzle (Caramel in other holidays)
Chocolate Chips
Chocolate Ring Donut with Mocha Cream

Maple Icing (Powdered Sugar in other holidays)
Bacobites (Chocolate Chips in other holidays)
3 Thai Chili Wings (left)
3 Spicy Garlic WIngs (right)
6 Celeries
Mango Chili Dip
8 Bacon slices
4 Pepperoni slices (left)
Regular bake
4 pieces
Cinnamon Toast with American Cheese (White Bread in other holidays)
American Cheese
Maple Mini Sausages (No other toppings in other holidays)
Bacon
Tomato
Maple Syrup (Bacon in other holidays)
Tomato in other holidays
Light
Fries:

French Fries
Ketchup
Bacobites
Cupcake 1:
Mocha Frosting
Chocolate Chips
Astronaut Ice Cream (Marshmallow in other holidays)
Astronaut Ice Cream (Cherry in other holidays)
Cupcake 2:
Black Frosting
Hyper Green Drizzle (Chocolate Drizzle in other holidays)
Creameo Bits
Cherry
Cherry

Where's my order!?
This customer's gameria order is missing! Please add this order and then delete this template box.
Chocolate Crust
Pecans
Pecans
Pecans
Fudge Filling
Star Crust (No other Top Crusts in other holidays)
Cherry Syrup (All Over)
Shaved Chocolate (All Over)
6 Dipped Strawberries (Inner Ring) (Cherries in other holidays)
Unlockable toppings along with him
Ranks required to unlock him
Papa's Next Chefs
Stickers
| Sticker Number | Name | Achievement | Sticker Earned |
| --- | --- | --- | --- |
| 18 | Hot and Ready | Have Quinn's order ready when she arrives and serve immediately | |
| 26 | Oven Expert | Get a 100% Baking Score on 20 orders | |
| 89 | Friendly Fill-Up | When dining in, fill the customer's pie with their friend's favourite fillings instead | |
Earn all 3 stickers to get this oufit:
Trivia
His Pizzeria order has the shortest time to cook, not including the last customer of the day. 
Chuck and Cooper are the only chefs to be absent from a game and then be chef in the following game. Cooper was absent in Freezeria and then became chef in Pancakeria.
He is the only male customer to have a pet.
On the 5th anniversary of Papa's Pizzeria, some early concepts were posted on the Flipline blog and on a rough pad a customer profile was drawn and it said Cooper is 23 years old.
He and Maggie are the only chefs who change from normal outfit to a worker's outfit permanently thus far, as Rita changes to a new version of her original outfit in Cupcakeria.
He and Greg are one of five pairs of characters that are known siblings. Some are Carlo Romano and Bruna Romano, etc.
You can buy his Taco Mia! shirt in Papa's Wingeria, Hot Doggeria, and Cupcakeria, which however has a slight change (the stars on the sleeves have been removed).
He is the first customer to appear in Papa's Pizzeria, therefore making him the first customer to appear in a Gameria.
He is the first customer to order a light-cooked sandwich in Papa's Cheeseria.
His Flipdeck background is the grill station for Pancakeria.
In Pancakeria, he has the same order as Prudence.
In Papa's Bakeria, his "Customer Clean-Up" brings back his original set of clothes (the Papa Louie shirt, blue pants, white shoes now with red stars). According to Tony, "we've been hearing a lot of fans discussing how they missed the original design of Cooper." [2]
Order Tickets
Gallery
Fanart