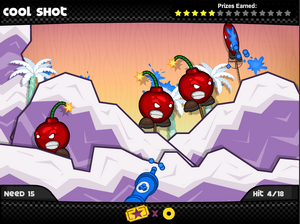 Cool Shot is a minigame that is played after a day is completed in Papa's Hot Doggeria. The targets are different baddies from Papa Louie 3: When Sundaes Attack!. The weapon used in this game is a bottle of Blueberry Syrup.
Enemies
Prizes
Coconuts Poster
Small Freezeria Table
Coconuts Jersey
Planter Box
Freezeria Wall
Coconuts Bottoms
Medium Freezeria Table
Batters Poster
Coconuts Hat
Surfboard
Swirl Floor
Large Freezeria Table
Blue Hoodie
Fez
Ad blocker interference detected!
Wikia is a free-to-use site that makes money from advertising. We have a modified experience for viewers using ad blockers

Wikia is not accessible if you've made further modifications. Remove the custom ad blocker rule(s) and the page will load as expected.