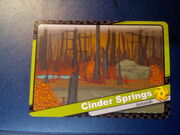 Cinder Springs is the 2nd area in Jacksmith. There is a badge called Traveling Blacksmith, which can be collected when entering this area. There are plenty of Fire enemies.
Trivia
This location is the subject for one of the two bonus cards included in the Pack #2 for the Flipdeck cards.
Ad blocker interference detected!
Wikia is a free-to-use site that makes money from advertising. We have a modified experience for viewers using ad blockers

Wikia is not accessible if you've made further modifications. Remove the custom ad blocker rule(s) and the page will load as expected.