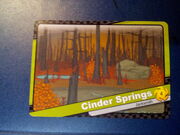 Cinder Springs is the 2nd area in Jacksmith. There is a badge called Traveling Blacksmith, which can be collected when entering this area. There are plenty of Fire enemies and Water Enemies.
Items Unlocked
Pointed Shield (Rank 6)
Gladius (Rank 8)
Fire Bomb (Rank 9)
Spetum (Rank 10)
Enemies
Pigroast
Tindertulip
Firefleece
Riverhoof
Woolcrest
Hogsblade
Marshtrap
Lavaleech
Pondscum
Trivia
This location is the subject for one of the two bonus cards included in the Pack #2 for the Flipdeck cards.