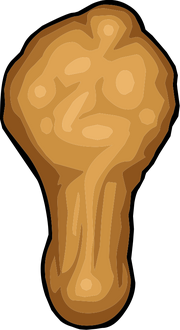 Bone-In Chicken Wings are an ingredient that appears in various Papa Louie's games.
In Papa's Wingeria, it is the starting meat (first of four, first of six in Papa's Wingeria HD) that are fried before being tossed in various sauces for customers at the beginning of the game.
The badge 'Wing Warmup' is given when you serve 5 orders with Wings. Another badge, 'Wing Slinger' is awarded upon serving 30 orders of wings with Wings. The lid for this meat is blue.
Customers who order this: (Wingeria)
Customers who order this: (Wingeria HD)
Trivia
Although there are two parts to the wing (excluding the wing tip) called the drumette (the humerus bone) and the wingette (the two-bone part consisting of the ulna and radius bones), only the drumette is pictured and served in the game.
This is the only meat served in all 11 sauces (all 14 in Wingeria HD).
In Papa's Wingeria HD, Roy and Professor Fitz are the only customers to order wasabi wings.
This is the most ordered meat
Ad blocker interference detected!
Wikia is a free-to-use site that makes money from advertising. We have a modified experience for viewers using ad blockers

Wikia is not accessible if you've made further modifications. Remove the custom ad blocker rule(s) and the page will load as expected.