Cherry Mines are one of the three Cherry baddies that debut in Papa Louie 3: When Sundaes Attack! They are encountered underwater. Unlike Cherry Bombs, the Cherry Mines do not actively seek the players, and only explode if the player swims into them.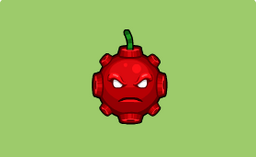 Trivia
Using a Swim Boost on a Cherry Mine will not defeat it. The Cherry Mine will still explode and cause you to lose a life.
Ad blocker interference detected!
Wikia is a free-to-use site that makes money from advertising. We have a modified experience for viewers using ad blockers

Wikia is not accessible if you've made further modifications. Remove the custom ad blocker rule(s) and the page will load as expected.