Cheese Cannons are an obstacle appearing in Papa Louie 2: When Burgers Attack!. They are notorious as they can squirt out cheese, covering the character in a pile of cheese. They have to jump 3 times to get out of the cheese pile, but if the player is near one it is harder to escape.
They appear as yellow cannons shaped like a Bullet Bill cannon with a red button. They were supposed to appear in Papa Louie: When Pizzas Attack!, but were removed because of space limitations. They looked shorter with a black color and "CHEEZ" written on them.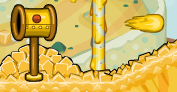 Ad blocker interference detected!
Wikia is a free-to-use site that makes money from advertising. We have a modified experience for viewers using ad blockers

Wikia is not accessible if you've made further modifications. Remove the custom ad blocker rule(s) and the page will load as expected.