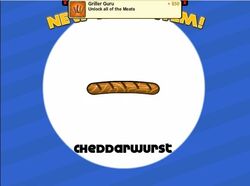 Cheddarwurst is a standard sausage that's made available in Papa's Hot Doggeria. It is unlocked with Sasha when the player reaches Rank 28. The badge 'Cheesy Dogs' is given when you serve 30 orders with this sausage. It takes the second shortest time to cook.
Customers who order this:
Trivia
Boomer is the only Closer to order this.
It is the least popular hot dog.
Nobody orders a cheddarwurst in a hoagie bun.
Doan is the only customer to order this on a Chicago bun.
These cook fast but not as fast as veggie dogs, so if you go to another station, be sure to come back and check if it's cooked through before flipping or putting it on a bun. If it's almost done, use the cooking booster before flipping it or dragging it to the bun before going to another station.