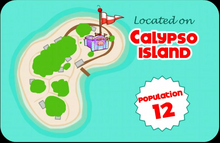 Calypso Island is the island where Papa's Freezeria is located. The population on the island is 12 people. In Papa's Hot Doggeria, there is a baseball team named the Calypso Island Coconuts that is based from this location.
Kahuna's Surf Shack is a small shop where beach apparel, handmade surfboards, and accessories can be purchased. The building is neighboring the Freezeria. 
Locals
Captain Cori - The captain of the S.S. Louie.  She rescued Robby from a deserted island he got stranded on for three years.

Gremmie - A surfer & freediver who also serves as a guide to the nearby Great Saltine Reef.
Ivy - Travel Trout travel agent working at the Calypso Island branch.
Kahuna - The owner of the Surf Shack next door to the Freezeria.
Nevada - Utah's older sister and organizer of the farmer's market and craft show.  She sells handmade jewelry from shells she finds on the beach.
Utah - Nevada's younger sister and local guide and Papa's Pastaria worker.
Ad blocker interference detected!
Wikia is a free-to-use site that makes money from advertising. We have a modified experience for viewers using ad blockers

Wikia is not accessible if you've made further modifications. Remove the custom ad blocker rule(s) and the page will load as expected.