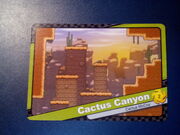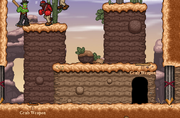 Cactus Canyon is the first area in the flash game Cactus McCoy and the Curse of Thorns.
Challenges
Unwanted - Take down all 10 "wanted" posters.
Fast Learner - Beat the level in 1:40.
Brawler - Kill all of the enemigos in the area.
Bramble Breaker - Remove all of the bramble bushes in the area. (8)
Marshall McCoy - Kill 5 enemigos using Sheriff badges.
Challenge 1: Unwanted
This challenge requires taking down all 10 wanted posters.
The first one is very easy to find. It is straight in your path when you start the level.
The second poster can be found where you practice dropping down for the first time.
Again an easy one. Walk straight into it when you enter the second part of the level.
After collecting the 3rd poster, you will kill a white enemigo. After killing him, the doors will open and the poster will be in front of you.
After entering the 3rd part, Climb up the ledges. you will see it. Jump down and on the right side to get it.
When you climb up the second rope after the treasure, you will see another. drop down to get it.
When you enter the 4th part, you will see the poster and ledges. Climb on second ledge and jump.
Climb to right side of ledges, you will see the poster. Jump to get it.
Keep climbing up the ledges until you find a solid platform. On that platform, two more ledges and stairs are found. climb up, then then fall from left, in direction of right.
In the fifth area, you can see a wooden crate. Place it under the ledge, climb the ledge and jump to get the poster.