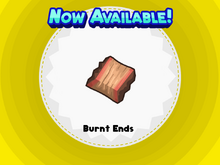 Burnt Ends are a holiday-exclusive ingredient available during Starlight BBQ in Papa's Pizzeria HD, It are unlocked on Day 4 of the holiday.
Customers who order this
Trivia
Burnt ends are flavorful pieces of meat cut from the "point" half of a smoked brisket. A traditional part of Kansas City barbecue, burnt ends are considered a delicacy in barbecue cooking. Either the entire brisket is cooked whole, then the point end removed and cooked further, or the point and flat are separated prior to cooking. Due to the higher fat content of the brisket point, it takes longer to fully cook to tender and render out fat and collagen. This longer cooking gave rise to the name "burnt ends". [1]
Ad blocker interference detected!
Wikia is a free-to-use site that makes money from advertising. We have a modified experience for viewers using ad blockers

Wikia is not accessible if you've made further modifications. Remove the custom ad blocker rule(s) and the page will load as expected.