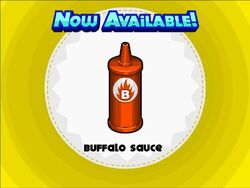 Buffalo Sauce
is one of two starting wing sauces in
Papa's Wingeria
/
HD
. The badge 'Getting Hot' is awarded when 30 orders are served with Buffalo Sauce.
It is also a sauce in Papa's Cheeseria, unlocked with Ember on Rank 2.
Customers who order this in Wingeria: 
Customers who order this in Wingeria HD:
Customers who order this in Cheeseria
Specials using this ingredient
Papa's Cheeseria:
Trivia
Buffalo Wings were created in a restaurant in the city of Buffalo, New York. Stories vary as to the origins. The sauce itself is a mix of vinegar-based cayenne pepper hot sauce and butter.
Nobody orders buffalo tofu skewers in Wingeria HD.
Ember loves this sauce according to her Flipdeck.
Ad blocker interference detected!
Wikia is a free-to-use site that makes money from advertising. We have a modified experience for viewers using ad blockers

Wikia is not accessible if you've made further modifications. Remove the custom ad blocker rule(s) and the page will load as expected.