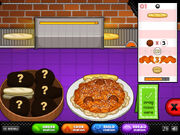 The Bread Station is the fourth station in Papa's Pastaria. In this station, players can bake the breads that customers order with their pasta dishes.
Procedure
Players select one of six "breads" that customers can order and place it on a conveyor belt on the left side of the oven. The bread will go into the oven and pass through on the other side. When the bread is done, a cooling meter will indicate whether as to how warm the bread is before it is served. If the meter turns blue, the bread is now cold and if served, players will get a low score in the bread station. When the bread is finished baking, it is added to the plate of pasta. If a mistake was made, whether the type of bread was incorrectly selected, or if the bread becomes too cold, players can drag it to the X, where it can be discarded (the words "Trash Bread" will appear).
Breads:
Upgrades
2 ovens - Players can now bake 2 breads at the same time. It may be hard to multitask to get both breads and make sure that they don't get the cooling meter to point at blue.
Booster - Sold separately from the ovens, pressing the booster button will let bake the bread at a faster speed.
Ad blocker interference detected!
Wikia is a free-to-use site that makes money from advertising. We have a modified experience for viewers using ad blockers

Wikia is not accessible if you've made further modifications. Remove the custom ad blocker rule(s) and the page will load as expected.