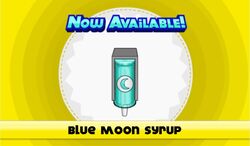 Blue Moon
is a syrup/drizzle used in various Papa Louie restaurant-time management games.
In Papa's Freezeria HD/To Go!, Blue Moon Syrup serves as one of the twelve syrups, unlocked with Mayor Mallow. The badge "True Blue" is unlocked when you serve 30 sundaes with Blue Moon Syrup.
In Papa's Donuteria, Blue Moon Drizzle is one of eight regular drizzles, one of three available at the start of the game. The badge "Blue Moon Mastery" is received when you serve 30 orders with Blue Moon Drizzle.
In Papa's Cupcakeria To Go!/HD, it is unlocked on Rank 4 with Rudy.
Customers who order this (Freezeria HD)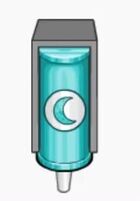 Customers who order this (Freezeria To Go!)
Customers who order this (Donuteria)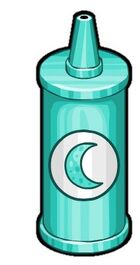 Customers who order this (Cupcakeria To Go!)
Customers who order this (Cupcakeria HD)