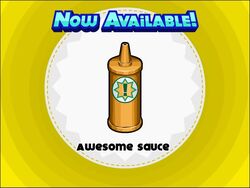 Awesome Sauce is an ingredient that appears in various Papa's Louie's games.
It appears in Papa's Burgeria HD and Papa's Burgeria To Go!. It is unlocked when player reaches Rank 10.
In Papa's Wingeria and Papa's Wingeria HD, Awesome Sauce Dip appear in both games. In Wingeria, it is unlocked when player reaches Rank 9. In Wingeria HD, it is unlocked with Pinch Hitwell when player reaches Rank 11.
In Papa's Cheeseria, it's appear as a sauce and as fry topping. It's unlocked with Austin when player reaches Rank 39.
Customers who order this (Burgeria HD)
Customers who order this (Wingeria)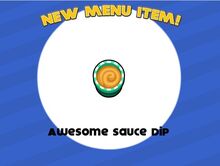 Customers who order this (Wingeria HD)

Customers who order this (Cheeseria)
Sandwich Topping
Fry Topping
Specials using this ingredient
Papa's Cheeseria:
Trivia
Awesome Sauce was the second recipe featured in Papa's Cook Book, a feature on the Flipline Studios Blog.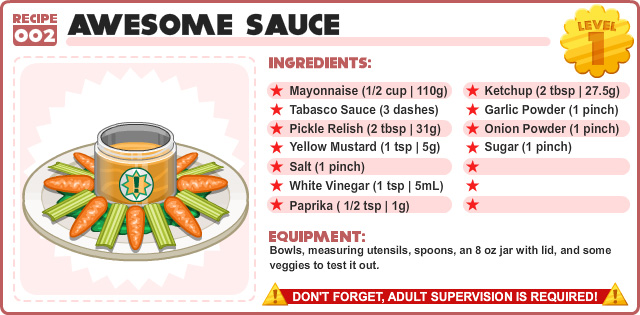 Instructions
The instructions are posted here.
1: Mix it up
Hey how simple is this, just mix up all the ingredients in a bowl! This should make about 3/4th a cup of Awesome Sauce. Although this simple recipe may not seem as exciting as say… a delicious parfait, it will be essential in higher level recipes from Papa's Cook Book!
2: Chill
Pour the sauce into a 8 oz jar that has a twist on lid. Place the jar in the refrigerator for several hours to allow the flavors to meld.
3: Try it out!
Get some veggies and try it out as a dip, or put it on your next sandwich! This helping of Awesome Sauce should last 3-4 days in the refrigerator.
Gallery
Flipline Studios asked users to send any pictures of Awesome Sauce made by fans.
Poster
Ad blocker interference detected!
Wikia is a free-to-use site that makes money from advertising. We have a modified experience for viewers using ad blockers

Wikia is not accessible if you've made further modifications. Remove the custom ad blocker rule(s) and the page will load as expected.