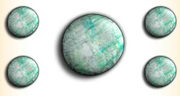 Amazonite is a stone which is first seen in the game Rock Garden Deluxe and is unlocked after beating the record on Level 17 which is 01:24.
Trivia and Information
The name is taken from that of the Amazon River, from which certain green stones were formerly obtained, but it is doubtful whether this even occurs in the Amazon area.
Ad blocker interference detected!
Wikia is a free-to-use site that makes money from advertising. We have a modified experience for viewers using ad blockers

Wikia is not accessible if you've made further modifications. Remove the custom ad blocker rule(s) and the page will load as expected.